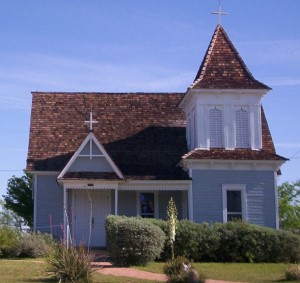 St. Stephen's Episcopal Church Welcomes You!
Upcoming Services:
April 5, 2015 - We will not be having any services for Easter - We wish everyone a very happy Easter season!
The History of St. Stephen's
Heralded as the oldest existing Protestant church west of the Pecos River, St. Stephen's Church was originally constructed in Pecos, Texas (54 miles north of Fort Stockton) in 1896 and consecrated in 1903. Continuous services were held in this building, until 1958, at which time construction was began on the new St. Mark's.
In 1956, after being slated for demolition, it was given to the members of St. Stephen's Episcopal Church in Fort Stockton by Bishop Kinsolving of the Episcopal Diocese of New Mexico and Southwest Texas.
The Episcopal community of Fort Stockton, who had been meeting in Dr. D. J. Sibley's office, due to the lack of a building, made plans to move this church to Fort Stockton. The building was placed on a block of land donated by Dr. Sibley.
St. Stephens is built along historic lines architecturally, with the altar at the east end and the entrance at the west. The tower or steeple was historically above the altar. In the English country churches, this architecture was modified with the entrance on the south side and the west side was closed to protect against prevailing westerly winds. The tower was also used as a fortified place against the Norsemen. From the tower, rocks, boiling oil and etc. could be thrown on the attackers.
These churches were generally built of stone with slate roofs and narrow windows. St. Stephens is constructed of wood and in the historic style of country or parish churches of England.